Mammoth Presidential Weekender
23 Feb 2006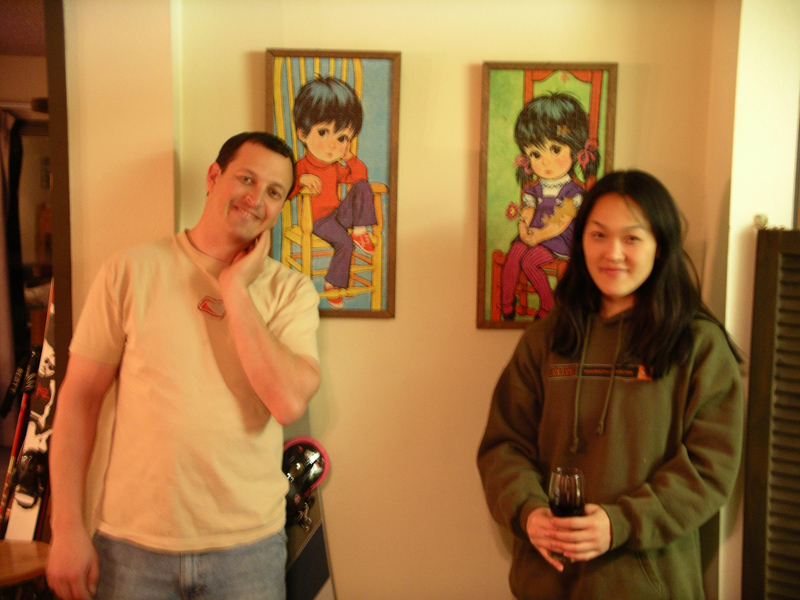 Ajay pointed out that as President of SoPS I could officially take a guilt free holiday this President's Day Monday. Unfortunately, it was my turn to give lab meeting on Tuesday morning so the end of last week was a little frantic. Amy, Greg and I drove up with Riley and arrived at about 2:30am Saturday in an chalet complete with portraits. On arrival Riley immediately ran to the TV and waited expectantly until it was turned on. He clearly enjoys TV and unlike most dogs actually watches things on the screen move around and gets very excited when animals appear. After a slightly lazy start we hit the slopes with fresh powder and more snow falling. Powder, although much more tiring, is great on a snowboard and you really feel like you are floating along. Steep runs are also less intimidating without the scraping sound of the ice and I was much more comfortable on the harder black runs. The double black diamonds at Mammoth (ratings are relative to the rest of the mountain) are still far too steep for my liking and quite frankly give me the heebie-jeebies.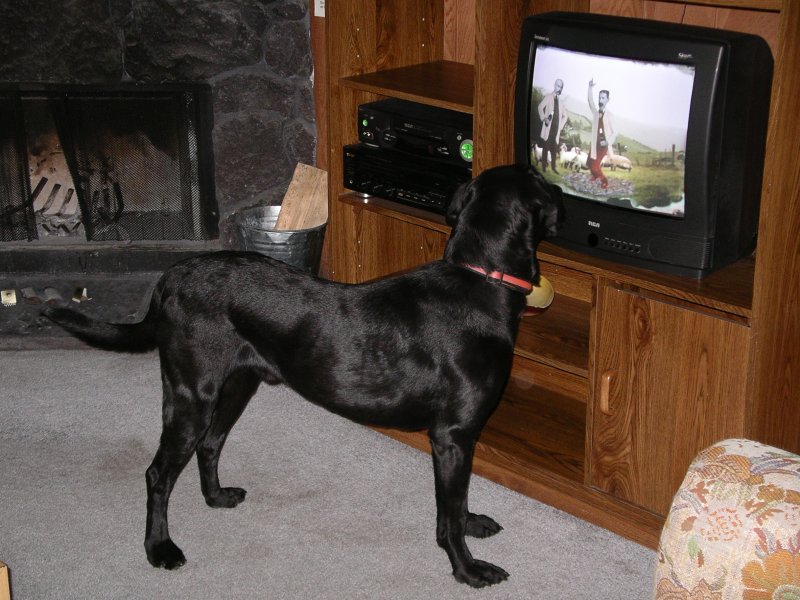 Throughout the trip we heard tales of, and occasionally met up with, a semi-random group of mostly single people that included friends of Greg, friends of Greg's friends, girls that Greg's friends had met in bars, friends of girls that Greg's friends had met in bars and a bloke that a friend of Greg's friend had invited along because he once gone on a date with a friend of a friend of Greg - much to the disgust of the aforementioned girl (all clear?). This group put our non-single people + dog challet to shame by going out Thursday (pre-trip party), Friday (arrival party), Saturday (whynot party), and Sunday (Good-time-Dave's Birthday). We joined them on Sunday but were too tired to make it past midnight at the 'club' and used the dog as an excuse to leave (I blame the music). I did however talk to a local who listened only to Lynard Skynard and had 'Never Been South of Bishop' (TM).
Meanwhile… Back in a small apartment in LA - Catherine's brain, unable to cope with my absence or possibly the impending 8th year anniversary, attempts to exit her head through the skull causing a mildly excruciating exercise / hormone induced headache / migraine. Poor C.