Lovely Weather
13 Feb 2006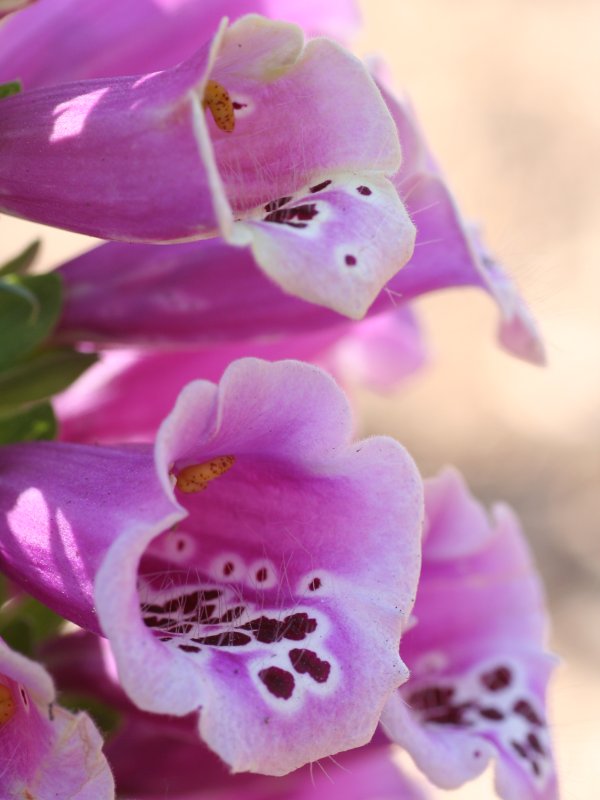 The Mother popped round on Saturday afternoon for a light stroll along Santa Monica beach in the evening sun. The weather in England has not been great of late and so she decided the 6,000 mile journey was worth it. On the was back on Sunday morning she decided to stop off in New Mexico to visit her sister and family for a couple of weeks. If by some random chance she returns to LA in two weeks by train from SF we may take a day trip to the Channel Islands.
In other news, Wendy got engaged to her boyfriend Dave - and in doing so drew attention to my lack of news in this matter. Talking of which - Catherine and I will hit the 8 year mark next week and so far we haven't needed the help of an invisible dog. Since I recently found out that I am Myers-Briggs type ENTP, I will blame the absence of left-hand-bling on my tendency to be 'deceptively offhand with their nearest and dearest'.
The foxglove pictured right was taken on a trip to the Descanso Gardens with my new toy: a super sharp Tamron 1:1 macro lens. The gardens were a rather low budget cross between Huntington Gardens and Exbury Gardens: complete with a pathetically small electric train ride. Dinner last night at Axe, on Abbot Kinney, was good but not fantastic. The best item was a carrot and caraway thing that might be similar to this recipe. Caraway seeds are possibly worth investigating but a quick search reveals that they provide an anise taste - strange.