Pyramid Power
02 Feb 2006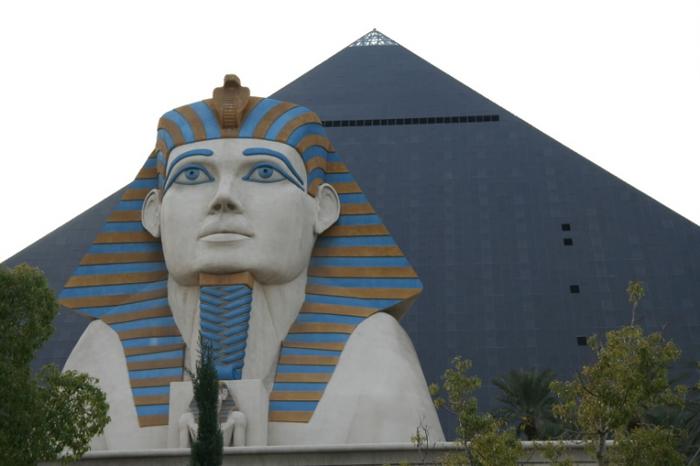 Only back for a few minutes and then off again. This time for a couple of nights rest and relaxation in a large black pyramid known to its friends as The Luxor Hotel, Las Vegas, Nevada. That last word is the critical one here and the escaping California for a few days is the fancy of many an LA person of a weekend. The draw it seems, apart from the obvious attraction of being indoors in an atmosphere of stale smoke and cheap air freshner, is the joy of giving money to those clearly in need. Their vast hotel complexes, complete with indoor canals and half-sized Eiffel Towers a testament to their destitution and need of the occasional 25c donation.
Ok, so Vegas isn't my obvious #1 choice of destination - but it 'has to be seen' and certainly is novel. The scale of the hotels is beyond 'size of a small village' and the absence of shame at any point is impressive. Anyone delutional enough to pay money to take a indoor 'canal ride' with a singing fat bloke whilst dozens of people look on in disbelief has to be respected (or on drugs).
Catherine was super lucky with the slot machines and came away about $18 up from $2 input. I lost everything ($2). The Bellagio Buffet was better than expected and the Champagne was refilled more times than sensible. Good times were to be had right until 'Leaving Las Vegas' when it all went rather 'Pete Tong'. The car, which had been left alone in a vast car park, was clearly sulking and decided to splutter along the freeway out of Vegas. Since it was a Sunday, even AAA couldn't find us anywhere to have it looked at so we had to risk the +280 mile journey across the desert with a dodgy engine. The signs didn't look good when I opened the hood / bonnet and looked in knowledgeably - only to spot a 13mm spanner / wrench sitting on the engine block. Unfortunately, removal of said spanner from 'the works' did not solve the problems but the spluttering seemed to settle down for most of the 270 mile traffic jam back to LA. Arriving at the 101/10 junction, the car decided enough was as good as a feast and promptly died in lane 3 200 yds from a hard shoulder. A small amount of coasting later we arrived on an on ramp and awaited AAA. Three days, one Ignition Module and $337 later the car is happily tucked away in its garage again. Little does it know that I now have an RSS feed of SUVs from $5-12k setup from craigslist… ssshhhh.