Outside of the bubble...
20 Sep 2005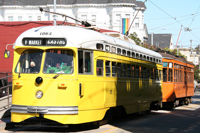 For the last few months I've lived almost exclusively within a small area of West LA. This last weekend I was scheduled to escape the bubble for a one day meeting of the University of California Council of Postdoctoral Scholars in San Francisco. It all begins with one critical error: I decided to go to happy hour on Friday night - despite the fact that I had to be on a plane at 06:30 the next day. With a minor hang over from 5 hours in the pub everything started off surprisingly smoothly and I arrived in Oakland airport fairly bright, found a shuttle and began the journey to the new Mission Bay Campus. The hugely bespectacled shuttle driver's incessant chatter didn't faze me and I was happy to hear about her alcoholic mother dying at 52, her adoption, experiences with her boss, relationships with bridge toll booth operators and countless other fascinating stories which she continued to tell as she drove off.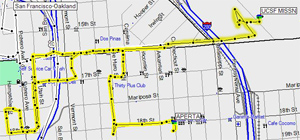 The meeting itself was very good and we had a lot to discuss and learn about each other's experiences forming and running postdoc societies. Some time after 5pm we finished and headed out for a quick drink before my flight at 8pm. Leaving the campus as a 4 car convoy, Swingers style, we headed for a nearby bar. The GPS does not do justice to the route we took which included 360 turns around blocks, journeys along the same road in both directions, losing the lead car then seeing it down a side alley going the other way. A few photos and one Chimay later it transpired that the bridge to the East Bay was closed due to an accident and that I would have to get the BART over there. I wasn't worried too much about missing the flight since I was sure that there was an 8:45pm flight (I had the printed schedule). So… got a lift to the BART station at Mission and 16th… (you wouldn't want to walk around here at night)… got on the BART… onto the AirBART bus to the airport… avoiding the scam artist… run to the terminal… arrive at the desk… nobody around… 'can I get on the 8:45pm flight?'… 'What 8:45 flight?'… 'This one…!'…. holds out print out… 'err'… There Is No Flight. The next 24-36 hours should probably be to the tune of Benny Hill. At this point it should be made clear that my inventory is limited to: 1x Ugly Phone (Catherine's phone, battery almost dead, my phone lost somewhere), 1x conference agenda, 1x Digital SLR, 1x pen, 1x sunglasses, 1x rucksack. It also transpires that there is an Oakland Raiders (formerly LA Raiders) game on today and so not a single room was available in the area. What to do? Luckily I had printed out an email from the organizer which had her cell phone number - Christina you are a hero for putting that on there! So phoned her… got back on the bus… back to the BART… waited on the platform… try to avoid talking to the 50 year old butch guy wanting to know which line was to SF… talk further with the guy… find out that he is not going to a Medical conference as originally told but having $4,000 collagen implants in his face because he was feeling old… get off the BART at Mission and 16th phone the organizer… get no answer… avoid heroin dealers… use GPS surrepticiously to find the bar we were… decide to walk as only 1.2 milies… avoid crackheads and dodgy geezers… try not to think about value of DSLR in bag… continue walking… get phone call… 'we are about to leave, we'll come and pick you up and go to another bar'… stand outside Safeway… wait…. wait… try not to look too dodgy… wait… convoy arrives… get in car with Justin… decide to stay with him in his hotel over to the South… drive to other bar… and drive… and drive… and drive… red light district… strip bars… 270 degrees around blocks… and drive… every few blocks going through a red light thanks to the lead driver going through yellows… and drive… then stop… out of the car… into the bar… find people that had taken more direct but less hilly route… out of the bar… find rest of convoy… hear about key stuck in ignition… back into bar… realize it is now 11pm and I haven't eaten… exit bar… find pizza… stuff in face… return to bar… recount story about missing plane… attempt to email Catherine using someone else's phone… service not supported… curse lack of home land line… grind teeth.
A swift drink later it was decided that Twin Peaks was a great place to get a view of the city so back to the cars… drive… up the hill to the car park with the gangsta dudes enacting perfectly their stereotyped behavior of dancing to loud music next to their cars. With fog obscuring the view it was time to head back to Justin's hotel so back in the car down the hill on the freeway over the the other side of SF… find the hotel… go to the desk holding reservation print out… 'Sorry no rooms'…. 'But reservation'… 'We've had problems with Travelocity… but don't worry we won't charge you'… !!!!!!!! With hotels all around booked up for a 21,000 person Oracle conference Justin decided to phone Rachel (despite that it is now 01:30am) and beg for floor space. So we got back in the car, had a brief 'moment', regained composure, and drove back to where we started to delightful Ikea showroom lounge with 1x futon and 1x mats on carpeted floor. I exited immediately to a convenience store one block away to find a toothbrush and chill with the murderers hanging around outside, then constructed an elaborate tin foil-lined contact lens holder, finally managed to email Catherine then went collapsed on floor 22 hours after getting up with a hang over.
Next day started well with 2x delicious tea from the life saving Yorkshire lass: Rachel. Justin decided to thank her hospitality by encouraging her to perform an elaborate tumble with careful placement of his Roller Blades by the entrance to the kitchen. Her collapse was executed in perfect slow motion and bonus points were gained for wrist crunching noises and forcefully crashing into a nearby bookcase. Some judges thought that the finale of a violently wobbling vase poised to fall onto her crumpled body was a little over done.
Justin reveled his obsession with nearly all sports, not least Roller Boogie for which the skates were intended. Tales of surfing, mountain biking, off road dirt biking, and yoga were supplemented with advice that a headstand for a few minutes will relieve many ailments.
It was sunny and brunch by the beach was excellent but rapidly the morning passed and plans of extensive city tours vanished. I took a wander back through the Golden Gate park, past Haight-Asbury, up Buena Vista Hill, through Castro (removing all flowers from hair before entering) and back to Mission and 16th to get the BART at about 4pm. With about 6 flights going to LAX I didn't imagine that I wouldn't get on one of them as I had an 'open ticket'. Arriving at the gate it soon became obvious that I wasn't going anywhere and it was time to breathe deeply, contemplate the next move. With another Raiders game on this evening the hotel rooms in Oakland were all booked but eventually I found a room in Hayward. With no glasses, no spare contact lenses, no sterile saline and no case I improvised a Visine (from local gas station) bath in a polystyrene cup to hold my lenses overnight. Putting them back into my eyes the next morning at 05:30 was possibly the most painful thing I have done for a long time and I may as well have stored them in Sulphuric acid over night. Hoping the pain would go away with a few tears I dashed down to the shuttle, headed to the airport and eventually got on the plane all the time my eyes streaming my nose running and the pain not lessening. Taking one lens out to halve the pain made little difference, and the journey home on the I405 wasn't exactly fun and neither was most of the rest of the day.
All in all an interesting insight into life outside the bubble and if it hadn't been for eye agony and not being able to contact Catherine it would have all been fairly amusing (in hindsight - possibly - one day). I did meet some great people and certainly got the 'alternative tour of SF' that I was after!
Lessons learnt: An open ticket means nothing on a Sunday night.
Reservations mean nothing when a conference or Football game is being held nearby.
Never catch a flight without taking supplies for at least 2 unexpected stop overs. Never trust an old phone to retain charge. Always read the label.
EDIT:
Well this just takes the biscuit… just looked all over the house for the phone and no sign of it whatsoever.
Until… I looked in the new case for my new camera… which I had with me… and there it was all the time - in the front pouch, fully charged and ready to go.
HMFCIDFBI.