Catalina Camping
23 Aug 2005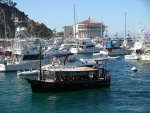 Catalina Island thrusts out of the Pacific Ocean about 30 miles south of Long Beach. A curious place where buffalo and golf carts roam free and giant plastic eagles are everywhere, including the tops of mini-vans. The main town of Avalon was fairly tiny, but had an attractive harbour and slightly out of place circular Casino (which had never been a casino). Despite the apparent lack of places to go, the locals all seemed to own a golf cart (some petrol powered and very noisy) and they lined the streets of tiny houses.
Ben, Catherine, Justine and I managed to secure a spot in the Hermet Gulch camp ground and proceeded to ignore the throngs of taxis and shuttles and walk the 1.5 miles to the campsite with various huge quantities of food, alcohol and luggage. On arrival we were greeted with hordes of people each with multiple 200 can coolers, wheelie suitcases, half of their kitchen appliances and a 4,000 cubic foot tent. No wonder then that we got rather strange looks as we trapsed up the hill by foot. This was the first of several blunders the second, and probably most important, was to rapidly consume a whole weekend's worth of alcohol within minutes of setting up the tents. This probably goes a long way to explain the mysterious disappearance of a bag of bagels, a slightly extended hiking detour, and why the only supermarket on the island seemingly did not sell either meat or vegetables the following day. When the collective brain cell started to function again it turned out that a wild deer had snaffled the bagels left out on the table, that we should have turned right instead of left and that there were actually 2 supermarkets within 100 yards of each other ("Oh - that one is just a beach store").
With less alcohol consumed on Saturday night, we were able to navigate to the snorkeling spots (on) Sunday. The bright orange Garibaldi fish (CA's state fish), and long strands of kelp where the highlights of the underwater viewing, with hordes of scuba divers and their bubbles coming in a close third. The tiny beaches around Avalon where a human zoo of tattooed middle class Americans and the local shops and bars were fairly full of demented tourists.
Overall the feel of the island was very different from LA and Avalon bay did have a more Mediterranean feel than I had expected. The landscape was slightly spoiled by fire breaks on the hill tops giving the appearance of a giant go-cart track and we were disappointed not to see the buffalo (or is it bison). However, I just read through the wikipedia entry and it transpires that they were relocated to South Dakota in December 2004 - lucky we decided not to hike round the island to find them.