Road Warrior
06 Jun 2005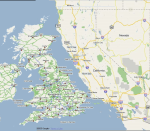 Last weekend was Memorial Day and Ben and Justine decided to go for a short break to Redwood National Park. All very dull so far until you realize that LA to Redwood NP is 780 miles each way, Memorial day is a 1 day holiday, Justine doesn't have a driving license and their car is a '91 Chrysler LeBaron held together with Duct tape.
Despite my mocking and the disbelief of even American commentators - B&J set off Friday afternoon with 5 CDs.
They arrived at 7am Saturday morning.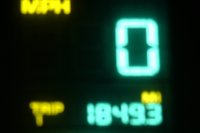 On their return there were tales of big rigs overturning causing 2 hour tailbacks, carpet / pedal interference causing near death, a breakdown in the middle of the Central Valley, a shouting match with a mechanic who seemed to think it could be fixed on Tuesday, almost falling asleep, power napping by the side of the road (in bear country - in a convertible), being woken up by the ranger, driving again, almost falling asleep on winding mountain roads (the drop only visible on the way back) and finally arriving ready to setup camp after an 18 hour drive. Shunning sleep they then spent all day Saturday DRIVING around the park!
Sunday was apparently nice and made it all worth while - there was talk of seeing a bird and a stream and some tall trees. Then Monday and time to drive back. With the trials of Friday not far from their memory it was courage indeed to go on a 4 hour DETOUR to see some mountains and a volcano. They arrived back safely in LA 18 hours later and promptly snapped the key off in the boot - needless to say this would have been distinctly annoying if it had occurred in the preceding 84 hours.
Some stats to prove the Road Warrior mantle:
Total Trip Distance (Pictured Right):   1,849.3 miles
Total trip time:                        84 hours.
Total driving time:                     36 hours.
% time driving:                         43%
Average speed (whole weekend):          22 mph

We are not worthy.