Who's yer Daddy's Daddy's Daddy?
19 Feb 2005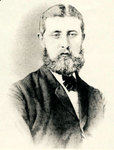 Well in my case it turns out he was Thomas John Davies - a Welsh coal miner from The Rhonnda Valley. If you think this is obscure you ain't seen nothing. I am now the proud owner of the knowledge that I am a direct descendant of Thomas Titt who was born in 1527! Yes, you guessed it I have been struck by the affliction that is genealogy. But don't panic just yet - ok maybe panic now before it is too late.
Pictured right is John Wallis Titt, my 2nd great grandfather, who is mildly famous (among windmill historians) for inventing a wind engine. More fame comes from Richard Gush, a close relative of my great grandmother Lily Eliza Hammett Gush. He went to South Africa with the 1820 settlers in the ship Brilliant (nice) and subsequently became The Hero of Salem when he 'saved the village of Salem, showing great courage and faith, when he rode unarmed to negotiate with 500 Xhosa warriors who had surrounded it'.
Apart from the Welsh roots already mentioned, I am also composed of London (Croyden), Birmingham and Glostershireness in the recent past. Further back comes Chitterne (Dorset), Sidbury (Devon) and Dublin! I have a bit of Irish in me after all (ok 1/16th). Another branch of my ancestry not only lived in Beer (a small town in Devon), but they were Innkeepers - brilliant!
As far as occupations go, there were confectioners, bakers, police constables, butchers, inventors, coal miners, hauliars, innkeepers, farmers, gardners and toolmakers. The long lost relative is my 1st cousin once removed, Graham Kinsman, and he was found using google after 20 years of radio silence with my Mum. For the rest of the gory details, and if you really are bored, then you can browse the whole Graham Davies family tree.
If you wish to do a similar search then you'll need to know detailed information about people who were alive in 1901 in the UK. The British censuses have a 100 year closure on them so that is the latest one that is available. You can sign up for a 2 week free trial at ancestry.co. uk and you can get a lot in that time. You will need their exact name, approximate birth year and place of birth. If you have marriage dates that is helpful. You may also find free information from the Mormons at http://www.familysearch.org.