Rather read a book...
15 Apr 2004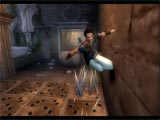 For some reason I have had renewed interest in my PS2 lately. The main reason for this I now realise was the creation of a 'corner of filth', where I now have an old 17'' monitor from the lab, a chair, headphones and the PS2. Freed from the clutches of the TV, the PS2 came alive and demanded playing. The latest to be completed was Prince of Persia - Sands of Time based, of course, on the Amiga 500 game from way back. The old version has been resurrected as a minigame in the game and on the game site. The contrast between the old and new is fairly staggering and illustrates how far gaming has come in the last 15 years. The original, although superb at the time, was infuriatingly hard and I don't think I ever got beyond level 4, mainly because there was no save function and every button press had to be precisely timed to stop you falling horribly to your death on dirty great spikes. Get it wrong at any point and back to the start of the level / game for you. Now you run around in a gorgeous 3D environment, turning back time and saving when required, and spend enjoyable hours puzzling over the massive levels. One of the best games I have played for years… but rent don't buy as I completed it in 3 days…
Other games that have kept me up beyond midnight recently: Ico, very similar to Prince of Persia but not quite as good; Metal Gear Solid 2: Sons of Liberty, good but a little bit too much sneaking for my liking; and Finding Nemo, visually stunning but only mildly amusing.