Kettle Corn
05 May 2006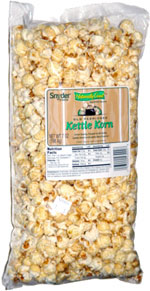 I've never been a big fan of popcorn - it didn't quite cut the cheese when it came to snack material. The salty stuff is a little bland, the sweet (you guessed it) a little sweet. The 'butter flavor' gives off such an evil stench that I am pained to use the word butter in the same sentence. Catherine recently found some cheese flavoured stuff - but this too was passable at best. With this background I was highly skeptical of Adam Sperling's excitement at the sight of a Kettle Masters stand outside UCLA store. How wrong I was.
Kettle Corn is a general name for corn cooked with the ingredients: salt, sugar, oil, popcorn. Simple - but if you can get your hands on some you will hopefully agree - deadly. In fact, if you are not strong willed kind of person I suggest you stop reading this and flash your brain with a MIB brain eraser immediately - yes it is that good. It's secret is in combining sweet (mmm… sweet) with salty (mmm… salty) so that it serves both as a main course and as a pudding all in one! Genius.
Kettle Corn, although not as good as stand bought stuff, is available from Whole Foods in large packets. Don't blame me if you find bits of corn all over your house in the coming weeks.